The following list consists of marketing campaigns I took a leadership role in creating or implementing, as well as one campaign (The Problem Solvers) which exemplifies the knowledge and experience I've gained in marketing and event management for community building .
#Freelance101 (Ryerson Marketing Association, 2020)
The Ryerson Entertainment Conference is a student-run organization of Ryerson University, that focuses on creating events, opportunities, and resources for Ryerson Students in commerce and the creative industries.
One of our team's marketing goals this year was to create more of an engaged community around the brand, and brand REC as more of a resource than a student group, as many students right now are looking to learn and advance their careers during their increased time at home. As a marketing lead, a campaign I created to help cultivate this image was #Freelance101. Since many creative professionals consider freelance work during school, but are often unsure how to begin, I leveraged my network to find 5 freelance creatives willing to speak to our audience, interviewed them via. google forms and documented their answers in a blog post focused on how to get started as a freelance creative, with our student audience in mind (which you can read here). I then coordinated a series of Instagram Takeovers, where each week, one of the creatives I interviewed would "take over" our instagram story, and take us through a day in the life of their freelance practice, answering questions from our social media audience along the way. The content that resulted was authentic, meaningful, and insightful, and the creatives did a fantastic job of answering questions about their respective work and industries.
Conceptualizing and organizing this campaign I honed the skill of curating content and choosing topics that resonate with our student following. I learned that successfully growing a social community means meaningfully engaging with and highlighting members of your target audience, resulting in meaningful, authentic storytelling that positively impacts the members and your broader audience, and conveys valuable insight to your following.
Graphics & Campaign Visual Identity by Soraya Sachedina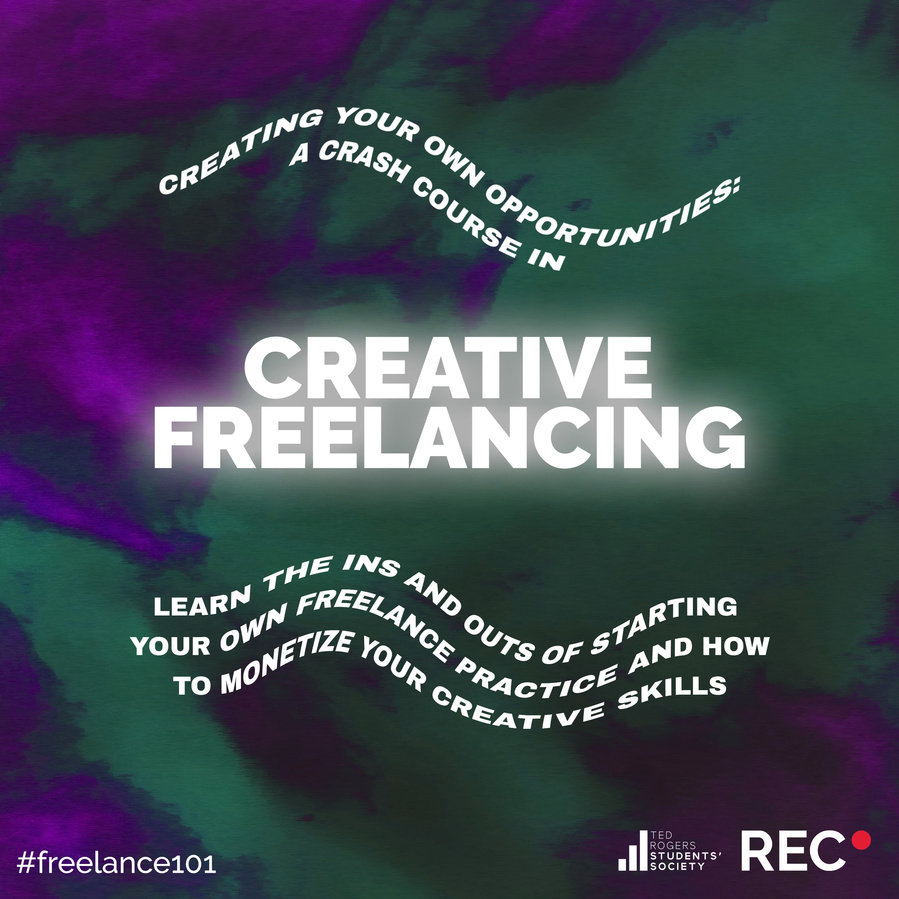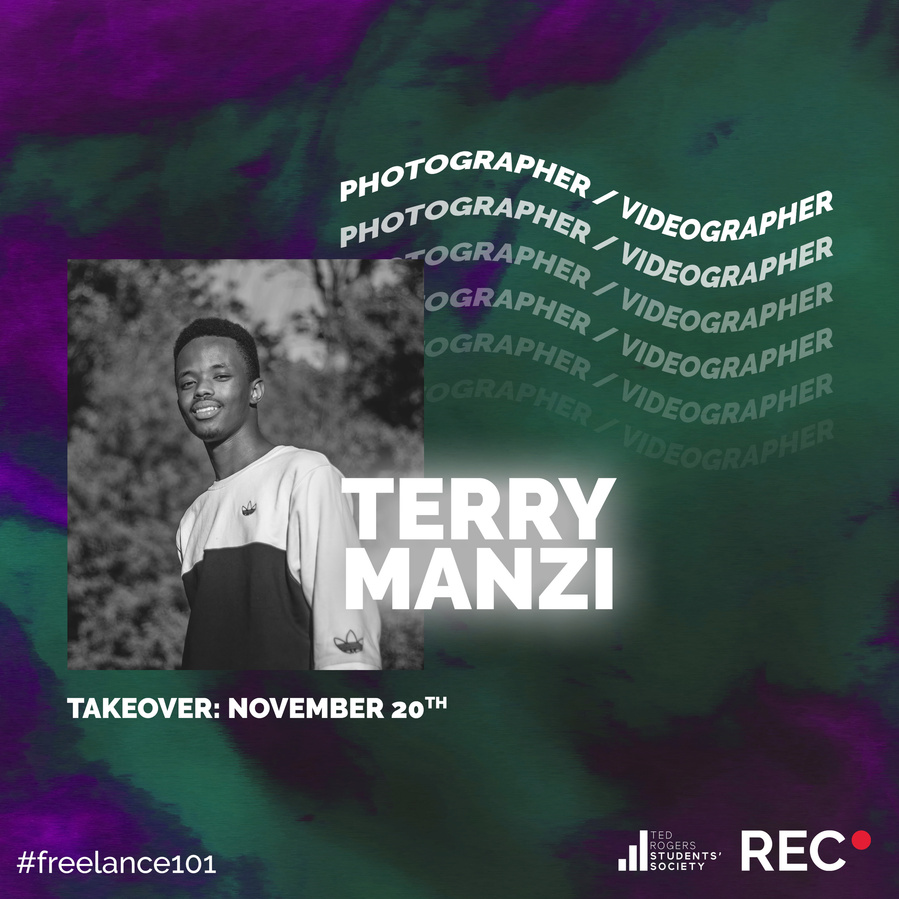 RISE: TedXArcteryx- Arc'teryx Toronto (2019)
The RISE Workshop began as an idea for collaboration between Arc'teryx Toronto and TedXToronto, who had approached us to ask about collaborating on a Toronto event series they were organizing for their community. TedXToronto, was interested in planning an event where their community could experience an Arc'teryx activity such as climbing or hiking at a beginner level. After agreeing on a beginner's climbing session hosted by our friends at Basecamp Climbing Gym, I pitched to include a post-climb speaker's panel where attendees could listen to accomplished climbers from our network talk about what lessons they've learned from climbing, which they apply to their personal lives. Adding a Ted Talk-like component to the event brought more relevance to the experience for their community, while highlighting the positive mental affects and personal development that physical activity can bring. This resulted in a fun physical event that also mentally enriched attendees. It also created an opportunity for us to showcase the communities we were working with and the lessons discussed on our socials; content was focused around highlighting the positive mental effects of a physical outlet such as climbing, and the inspiring stories of our speakers. Relevant marketing highlights included event marketing through instagram and Facebook, highlighting and promotion of our speakers, and the valuable content we were able to produce from the event itself, with the goal of highlighting the main takeaways of the event that would resonate with our followers.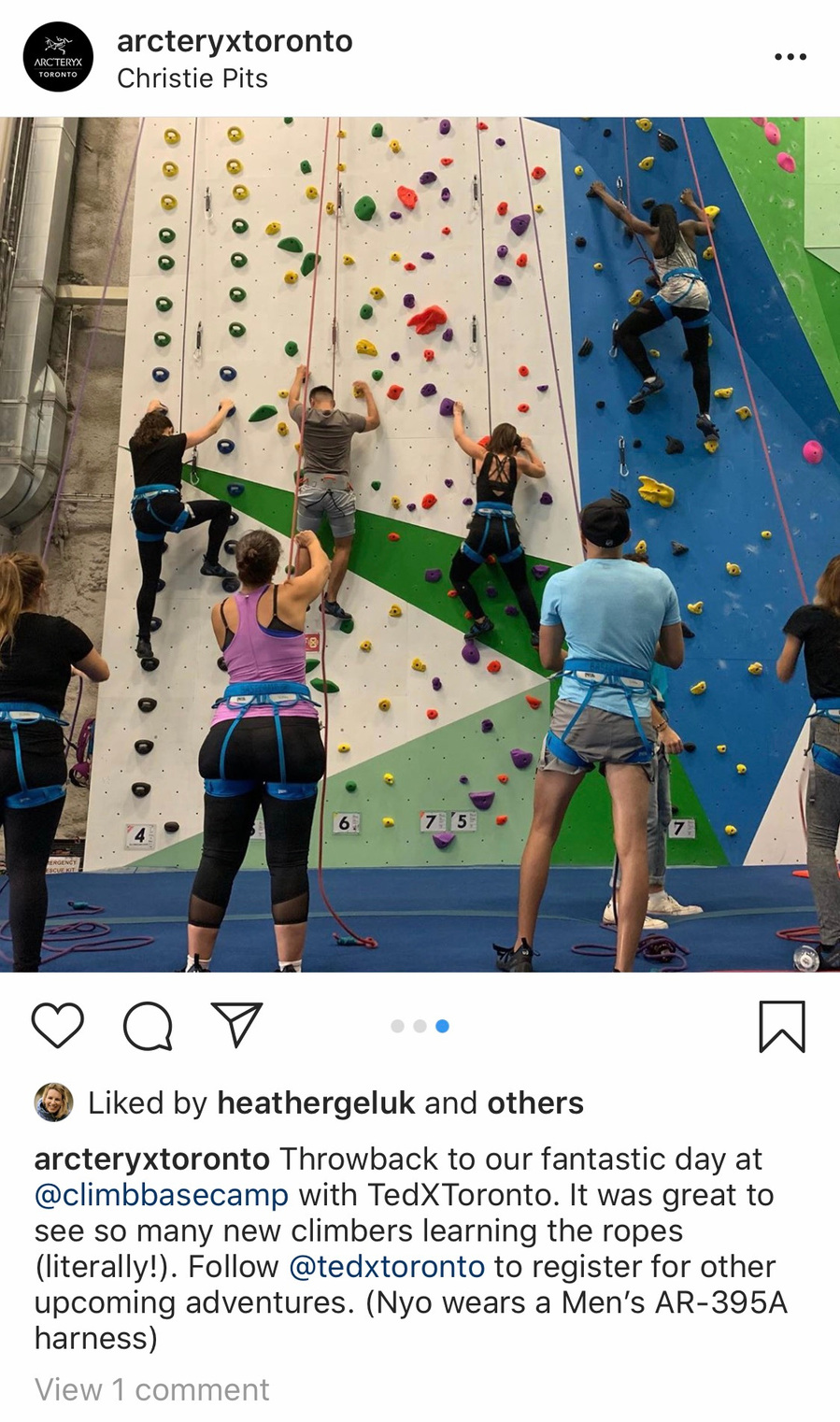 BREATHability- Arc'teryx Toronto (2019)
When approached with an HQ mandate to organize a wellness/physicality event to celebrate and promote the re-release of the Proton LT jacket, I strived to do more than just organize a physical wellness session. In order to add a promotional aspect to the event I decided to organize a private outdoor yoga workshop for a small number of invitees, who would demo the new jacket during the yoga session. The event doubled as a content opportunity, and we gathered professional photo and video content to form a digital launch campaign that promoted the release of the newly improved jacket on our instagram. This accomplished the goal of creating a wellness event as part of a brand-wide campaign, and employed experiential marketing tactics to draw hype around the re-vamp of the Proton LT and create a unique social media campaign for the Toronto store. Crafting events from a content marketing and creative viewpoint allowed me to properly conceptualize an event that met brand standards and consumer needs and interests. A small curated group of invitees allowed us to connect with many of the attendees individually, form meaningful connections, and allowed us to film a feature video accompanying the campaign where we focused on how the attendees use the principles of yoga and mindfulness in their everyday life, how it helps them physically and mentally, and what mindfulness means to them. Creating a story using real community members is something we found really resonated with our social audience, so this campaign used storytelling in a way that resonated with followers to create a campaign that was actually personally enriching, and not just about the release of a new product.
#MarketingMyths- Ryerson Marketing Association (2018)
Marketing Myths was a campaign I designed in promotion of the 2019 Ryerson Marketing Conference. After an associate and I polled our instagram followers for sentiments on what comes to mind when they think of marketing, we were pretty alarmed, as many of the answers we'd gotten were negative and untrue connotations. So we decided to create a campaign that highlighted some of these misconceptions about marketing, featuring blog posts we wrote debunking the false statements. Each poster contains a QR code which when scanned, sends the viewer to the relevant blog post.
As the campaign's creative lead, I designed the visual identity of the posters and digital content, as well as editing graphic copy and designing the Marketing Myths blog (which has since been taken down for maintenance). I also contributed to writing and editing the blogposts alongside my teammates.
Designing this campaign was an extremely positive and educational experience for me, allowing me to practice graphic and website design. It resulted in a finished product I'm extremely proud of, with a message I think is really relevant right now: Effective marketing is about creating productive, positively centred conversations with consumers, and sharing an idea you're passionate about with the world.
The Problem Solvers- Arc'teryx Toronto (2019)
The Problem Solvers was a brand-wide initiative aimed at promoting local change makers in the communities of each brand store. Looking to create more focus around the brand's values of design, Marketing Leads around the world were instructed to have community members nominate themselves or others, based on how they use design in their community to aid others or solve problems. We were then instructed to host an event for the top 3 change makers we chose from our nominations, and host an event where they each can talk about their initiatives and have community members vote for their favourite, with cash prizes distributed based on votes.
Even though this was a campaign I did not take a leadership role in conceptualizing, I decided to highlight it as I feel it was a huge learning and growth experience for me, and taught me the true meaning and value of community marketing.
It was my job to work with the Toronto Marketing team (one other Marketing Lead and our community Marketing Manager) to translate this campaign to the Toronto space, and work out how we can best promote the campaign to our followers. We decided on three short IGTV videos showcasing each of the change-makers and their stories, and vigorous event marketing on social media platforms advertising the event, its importance to the community, and how followers could interact by attending the event and voting for their favourite nomination. Not only did the event get a large turnout (80-90 attendees) but it truly taught me the value of connecting a community through relevant values and stories, and how using brand values in a positive way can help us connect with people who are passionate about the values we are championing, and build our community on values we are passionate about. This campaign truly worked to establish Arc'teryx as more than just an outdoor apparel brand, showing our community how multi-dimensional our brand is, and putting the values we promote into action on a local level. The campaign also worked to increase brand engagement, resonance, and loyalty.